Assigning the Signature Block Macro to a Keystroke
It doesn't take long for the process of playing your favorite macros from the Play Macro dialog box to become tedious. That's when you start wishing there was a faster way to play a macro. There is a faster way – you can assign a macro to a keystroke, like Alt+K for example.
Click Tools > Settings > Customize. In the Customize settings dialog box, click the Keyboards tab. Click Edit to assign the macro to the current keyboard. In the Choose a Shortcut Key list, select a key in the list (i.e. Alt+K) to which you want to assign the signature block macro (see Figure 6). Click the Macros tab. Click Assign Macro to Key. In the Select macro dialog box, select the signature block macro. Click Select to assign the signature block macro to the keystroke. Click OK > Close > Close.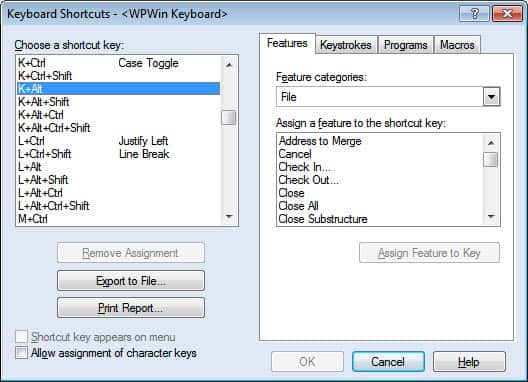 Assign your most frequently-used macros to a keystroke combination for quick access.