Looking for Corel Paradox?
Corel Paradox is now part of WordPerfect Office and it is better than ever!
Corel Paradox was a database utility that specialized on relational database management system. It was originally developed as a MS-DOS program by Ansa Software. Later, Borland bought Ansa Software and published the program as "Borland Paradox" for Windows platform in 1992. Corel Paradox was first released in 1997. It was later bundled with WordPerfect Office Suite. Currently the features of Paradox is included with the latest WordPerfect Office. The package comes with new features like Template Viewer, Function Key Template, Macro Manager, Mail Merger, AfterShot, and much more.
Top reasons to upgrade from Corel Paradox
Easy document creation
Built-in PDF forms
Flexible eBook publishing
Extensive compatibility, including Microsoft Office
Reveal Codes
Template Viewer
Function key template
Microsoft Office compatibility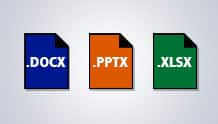 Access free valuable resources when you upgrade from Corel Paradox.
Get all of the old features you loved about Corel Paradox and a whole lot more when you upgrade to the latest version of WordPerfect Office.
Give WordPerfect a try today!
Other Old Products