Looking for Presentations Graphics?
Presentations Graphics is now part of WordPerfect Office and it is better than ever!
Corel Presentations was a presentation utility for professionals who intended to create quality presentations for all sorts of clientele. It's biggest plus-point was that it had a large number of templates. It was originally developed from DrawPerfect, a MS-DOS based program. Most of the codes of Corel Presentations were mutual with WordPerfect. For that, it was included in the Corel's WordPerfect package. WordPerfect package comes with more than 300 templates and comes with proprietary graphics that help in creating presentations.
Top reasons to upgrade from Presentations Graphics
Easy document creation
Built-in PDF forms
Flexible eBook publishing
Extensive compatibility, including Microsoft Office
Reveal Codes
Template Viewer
Function key template
Microsoft Office compatibility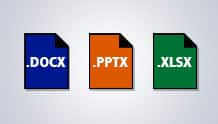 Access free valuable resources when you upgrade from Presentations Graphics.
Get all of the old features you loved about Presentations Graphics and a whole lot more when you upgrade to the latest version of WordPerfect Office.
Give WordPerfect a try today!
Other Old Products