Pretty Darn Fabulous! Discover the World's Most Powerful PDF Office Suite
WordPerfect® Office is considered the world's first "PDF office suite" with built-in features to open, edit and publish PDF documents. That's right—WordPerfect Office lets you open PDF files, edit them and save them back to any of the 60+ file formats WordPerfect supports, or publish to PDF for sharing. These built-in tools save Corel customers hundreds of dollars every year because make it possible to work with PDFs without buying Adobe® Acrobat®.
WordPerfect Office developers have been designing PDF publishing tools since the format became the de facto standard for electronic document sharing. Over the years these tools have evolved from the bare essentials like Publish to PDF to sophisticated and powerful features that let users import PDFs to repurpose the text and graphics.
Here are the PDF Tools Available in WordPerfect Office X5
Publish to PDF – The Publish to PDF feature is available in all three applications: WordPerfect®, Quattro® and Presentations™, so you can publish your spreadsheets and slide shows to PDF just as easily as you can publish a document. PDFs can be optimized for a variety of media: the Web, email attachment, or professional printing, so you can generate a PDF with the ideal settings for file size and print resolution.



Add Password Protection – You can add passwords that control who can view, copy, edit or print your work. There are two levels of password protection: open and permission. If you set an "open" password, the reader must know the password to view the contents. If you set a "permission" password, you can control what the recipient can do. For example, you may want to allow someone to print the document, but not copy any of the text.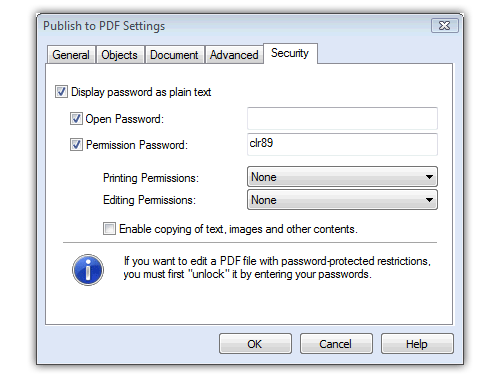 Create passwords to protect PDF files in the Publish to PDF Settings dialog box.
Create Tagged PDFs – Tagged PDFs are an important accessibility enhancement. The embedded tags are used by screen readers and other assistive technologies to read the document. The tags provide a logical structure that enables the document to be read in the proper order by the screen reader. WordPerfect will analyze the content and automatically apply the tags for headings and paragraphs, tables and images, so they are presented in the correct order, both for accessibility devices and handheld devices like a Blackberry.



Create PDF/A Files – The PDF/A format was developed to ensure reliable reproduction of files for long-term preservation. In other words, you want to be able to archive documents as PDF files that will be readable for years to come. The PDF/A standard was developed so that future applications will be able to open the files. PDF/A is a subset of PDF that excludes features that are not suited to long-term archiving, such as external document linking. You can create PDF files that comply with the requirements of either PDF/A-1a or PDF/A-1b.



Open PDF Files – Savvy users figured out a long time ago that they could repurpose text by copying and pasting from PDF files, although unpredictable results sometimes meant spending extra time spent cleaning up the format and adjusting the text flow. With WordPerfect Office X5, you can open PDF files, even scanned PDFs (which traditionally have to be retyped), and edit the contents just as you would any other document.
Note: There are a couple of other PDF tutorials in the archives: For more information on using the Publish to PDF feature in WordPerfect Office X5, see this tutorial, which was written for WordPerfect Office X4, but it all still applies.
What's New
WordPerfect Office's PDF capabilities have evolved yet again with the addition of Nuance PaperPort 12 SE. PaperPort combines easy-to-use scanning tools with powerful PDF creation, editing and annotation features. Yes, you read that right—you can now annotate PDF files by adding sticky-notes, highlighting, freehand lines and arrows.
PaperPort lets you scan and transform mountains of hard-copy documents into searchable PDFs. Even if the document you need has been archived in a box in the basement, you can still scan it and add it to your electronic library. This is the green movement in action: scan all of your hard copy documents, spreadsheets, slide shows/presentations, photographs and other records, recycle them properly, then keep the electronic versions.
Scanning into PaperPort – PaperPort is designed to work with all TWAIN- and WIA-compatible scanners. Simply select a scanner, pick a scan profile and start scanning. If necessary, you can tweak the settings before starting the scan. For example, you should scan photographs at a higher resolution than straight text.



Annotating a PDF in PaperPort – Collaborating just got lot easier, because now you don't need to purchase additional software to annotate PDFs. You can add sticky-note type notes to a PDF, add a line of text, highlight part of a page, draw freehand lines or marks, and draw straight lines (with or without arrow heads) using the Annotation tools.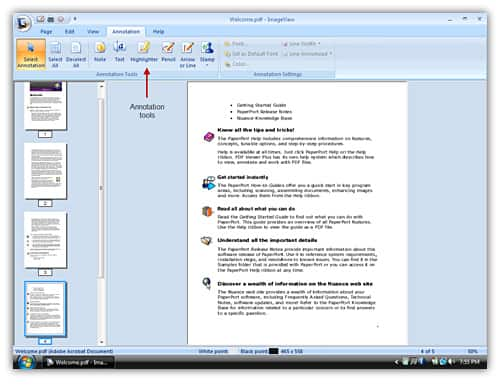 The Annotation ribbon in the Image View window gives you quick access to the annotation tools.
Searching Through PDFs – Using PaperPort's All-In-One Search pane, you can search through folders of files by file name, keywords, subject or comment text and annotations. PaperPort can convert image-only PDF files to searchable PDF files, so they are protected against alteration and can be searched with PaperPort or applications like Windows Desktop Search or Google.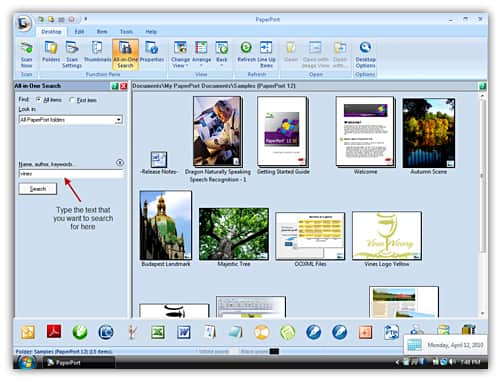 The All-In-One Search pane allows you to search through multiple folders for related PDF files.
Enhancing Scanned Images – PaperPort includes some handy tools for correcting minor problems such as straightening crooked scanned pages, adjusting lines in forms, and removing smudges from scanned business cards. There are also imaging tools to correct issues with scanned pictures: lightening an underexposed photograph, adjusting color in a color image, or sharpening fuzzy photos, for example.

The Page ribbon in the Image View window has tools for correcting problems with pages and images.
Sharing PDFs – PaperPort makes it simple to share files with others. Simply drag the file(s) to your email program on the PaperPort Send To bar to send them as attachments. Or convert a PDF to another popular format, such as WordPerfect or Microsoft® Word; Quattro Pro or Microsoft® Excel; Presentations or Microsoft® PowerPoint, then send it out. PaperPort allows you to view and manage files on your local machine or on any machine on your network, whether it's a folder on a network server, or a shared folder on a colleague's PC.