Join the conversation at officecommunity.com
The Home Page
Like any website, the home page of officecommunity.com is designed to give you an overview of the site and provide a starting point for your visit. If you are just visiting and have not yet joined our community, your home page will show you a snapshot of the most recent site activity, as well as links to recent blogs, new media downloads and active forums that allow you to browse through the section you're interested in.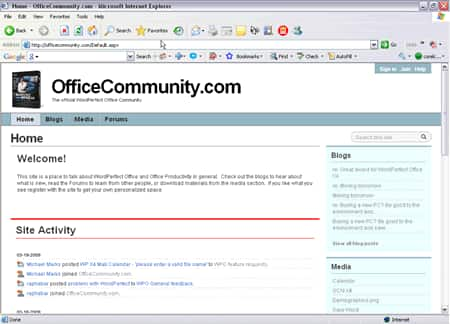 If you have already joined our community and are logged in, your home page can be customized to your liking. Think of it as your own personal space to work in. You can view or edit your profile and add or change your avatar (an avatar is a photo or image that you choose as a representation of yourself). Your personal home page will also list your recent conversations, blog posts, forum discussions and any files you have uploaded to the Media section. You can also identify favorite posts and these will be listed on your home page as well. Another feature on your home page is your list of friends. This is where you can view your list of friends and their recent activity. If you want to add a user to your friend list, simply click on their name and then the Add to Friends link that is below their avatar.
The Blogs
The Blogs section gives you a view of topics of general interest, as related to office productivity. The main Blogs page is organized into a list of blog postings, each with a title, a preview of the first few lines, the date posted and the name of the user who posted it. There is a "sort" function for the list of blog postings, allowing you to sort by most recent blogs, most viewed blogs or the blogs that are most commented on. If you want to read more about a certain blog, just click on the title and it will bring up the blog as well as any comments that have been made on that particular blog post. Want to add your own comment? If you are a member and logged in, simply scroll to the bottom of the blog posting and you'll see the Add a Comment section. Enter your user name and your comment and click
Add
. Your feedback will only take a few minutes to publish.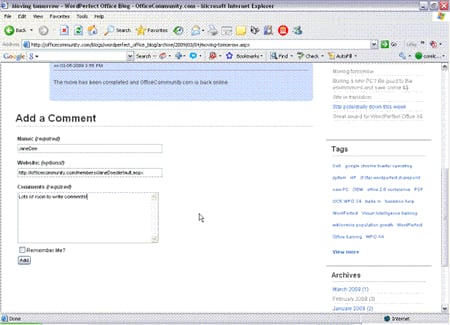 Media
The Media section has a variety of files available for download: templates, screenshots, tutorials, videos and more. You can view these files as thumbnails, as a list or as a slideshow. Similar to the Blogs section, you can sort the Media section by name, by most recent, by most downloads, by most popular or by most comments. All of this content is available for download regardless if you are a registered member or not. However, if you would like to add anything to the Media section, you will need to be logged in.
Coming soon! Those of you who remember the original Office Community website from the late 1990s will be pleased to know that we are in the process of transferring all the content over to the new community site and it will soon be available to download in the Media section.
Forums
An internet forum is an online discussion site, similar in concept to a bulletin board. The main discussion in the Forums section of officecommunity.com is of course the WordPerfect Office forum, but there are also links to forums for WordPerfect Lightning and Corel Visual Intelligence, two new and wonderful additions to the WP family. Within each forum there is a list of topics which can be sorted in a few different ways - either view the most recent topics or view the topics that are yet unanswered or unread. Simply click on the topic to read the entire post. Both guests and registered users are able to browse through the discussions, but you can only post a reply if you are logged in.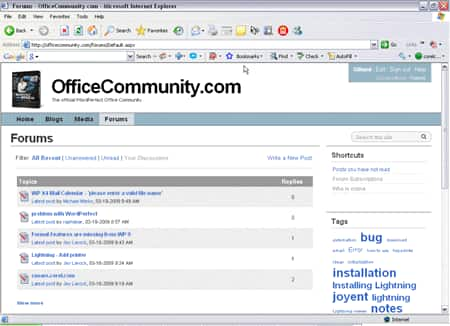 If you are interested in following the discussion in a particular forum, you can subscribe to that forum. On the Forums main page, there is a link for Forum Subscriptions in the Shortcuts section. Once you click on that, you will get a list of the topics. Beside each topic is a column for Subscriptions, with "No" as the default setting. Click on "No" and it will change to "Yes" and you are now subscribed for that topic. When another user writes a new post for that particular topic, you will be notified via email. Don't want to receive email notifications? You can disable this function in the Email Configuration setting of your profile.
Now that you know the lay of the land, here's how to get started on
officecommunity.com
.
Signing up as a member of our Office Community is simple and will only take a minute of your time. From the Home Page, click on "Join" in the top right corner of the page. This will bring up a short registration form that only requires you to choose a user name and password, and enter your email address. Below the email address entry field, be sure to select whether or not you would like the site to contact you, and whether or not you would like to be contacted by the site's partners. Then click the Join Now button and you're done.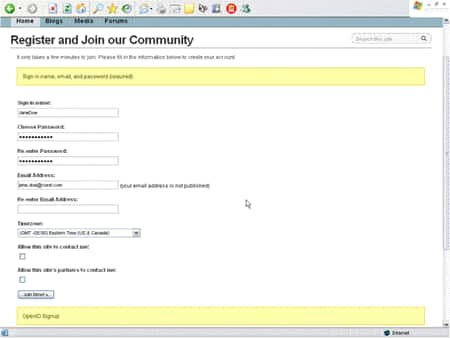 You will receive an email from the officecommunity.com team confirming your registration. Rest assured that your email address will not be published and that you have control over which types of communication, if any, you would like to receive from the WordPerfect Office team.
Once your registration has been confirmed, you can sign in to the site from the home page. If you like, there is an option to be automatically signed in from then on. Now you are ready to explore the Office Community. We hope you have fun and we welcome any feedback you may have on the site.
Sincerely,
The WordPerfect Office team