Adding letterhead to PerfectExpert project templates
WordPerfect® Office applications include templates for creating a wide variety of projects. You can also design your own templates. This is a great time-saver if the documents you create often have a common look or feel.
Creating a letterhead template can save you the time and effort of retyping the same information each time you create a document. Letterhead usually includes information such as your company name and contact information.
Using headers and footers to create your letterhead text, you can access a variety of fonts and formatting options. After you've formatted your letterhead, you can save it as a PerfectExpert™ project template.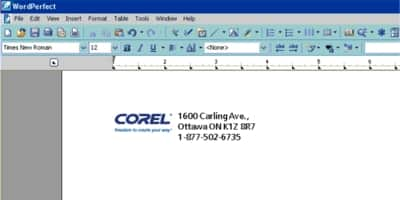 You can create eye-catching letterhead in WordPerfect® using headers and footers.
To save letterhead as a PerfectExpert project template
Click File > New From Project.
In the PerfectExpert dialog box, click Options > Create WP Template.
Click Insert > Header/Footer.
In the Headers/Footers dialog box, enable the Header A option.
Click Create.
Format the header.
For more information, see "Working with headers and footers" in the online Help.
Click File > Save.
In the Save Template dialog box, type "Letterhead" in the Template name box.
Choose a category from the Template category list, and click OK.