Saving documents without metadata
Versions of WordPerfect X3 and newer let you control how much metadata is retained in your documents when you save them. This can help you avoid some potentially embarrassing situations. Whenever you create a document that is going to be distributed outside your company or organization, you should consider the metadata that will be traveling with it.
Metadata literally means data about data. For example, documents created with word-processing software are data files. Often, those files contain extra information that may not be intended for publication, such as hidden text, the undo/redo history of the file, and user comments from collaborative reviews. Designed to help users track, manage, and retrieve files, metadata may also contain deleted content from an earlier version of the file.
Without realizing it, many users are their own worst enemies. It's not that they intentionally or negligently leave metadata in the files they distribute; it's that they don't understand metadata — or even know about it. Metadata isn't visible to average users, so it's not a consideration when wrapping up a document. A scenario as innocent as creating a document by basing it on a preexisting one, however, can give the recipients of the document a lot more information than they were meant to see.
The following table outlines the types of metadata that you can choose to remove.
| | |
| --- | --- |
| Types of Metadata | What It Can Reveal |
| Comment Information | The date and time the comment was created, the comment writer's name and initials, and the comment text. Users can choose to remove comment information while retaining the comment text. |
| Hidden Text | Content not intended for other users |
| Annotations | Changes and revisions suggested by a reviewer or multiple reviewers. Users can choose to accept or reject all annotations. |
| Undo/Redo History | Information about changes made to the document |
| Document Summary Data | File information, such as title, subject, author, keywords, and comments |
| Headers | Titles, page numbers, dates, times, and document names |
| Hyperlinks | Links to documents that may contain metadata that you do not want to share with other users |
| OLE Object Information | Information such as the path to the linked image or object |
| Routing Slip | Information about who collaborated on a document |
To save a document without metadata
Click File > Save Without Metadata.


Enable the Keep Original Document Open check box.
If the Keep Original Document Open check box is not enabled, the original document closes, and the metadata-free version remains open.


Choose the drive and folder in which you want to save the document.
By default, _mtd is added to the filename to identify that the file does not contain metadata.


In the Select Metadata To Remove area, enable any of the following check boxes:


Comments
If you want to remove all comment text and information, enable the Content and Information option. Information includes the comment writer's name, initials, and the date the comment was inserted in the document.
If you want to remove only the comment information, enable the Information Only option. Information includes the comment writer's name, initials, and the date the comment was inserted in the document.
Hidden Text
Annotations
Undo/Redo History
Document Summary Data
Headers
Footers
Hyperlinks
OLE Object Information
Routing Slip



Click Save.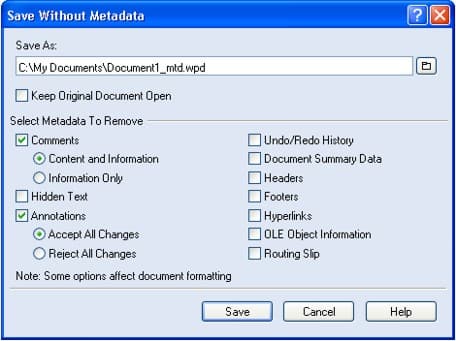 The Save Without Metadata dialog box makes it easy to remove metadata from your documents.