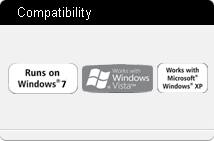 Easy-to-Use PDF Software
Corel PDF Fusion, the all-in-one PDF creator that lets you view files, plus assemble, edit and create PDFs.
View over 100 file types without purchasing additional software
Easily view, edit and create PDFs
Share files with anyone by converting to PDF, XPS or Microsoft Word formats
Drag and drop to combine multiple file types into one PDF package
Reviews
..."we were sort of awed by their new PDF Fusion." - On Computers
"This baby is awesome!" – Gadget Guy
"Its simple intuitive design and high-speed performance make it well worth the price." – Bright Hub
..."truly excels for low-cost creation of personalized documents in PDF..." – Notebook
Also visit our partner site www.openthefile.net for more options to open PDF files.