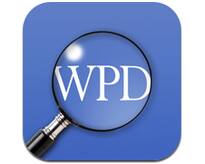 WordPerfect Viewer
Work with WordPerfect files on the go!
Corel 30-Day Money-Back Guarantee

At Corel we're proud of our products and we're confident that you'll be satisfied with your purchase. That's why we offer the Corel 30-Day Money-Back Guarantee. Buy today and if you're not completely satisfied with your purchase, Corel will refund your money based on your original method of payment - excluding any shipping costs. When you contact us about a return, your Corel Customer Service Representative may inquire about your products and experience.

Please note: Only products purchased directly from Corel qualify for the Corel 30-Day Money-Back Guarantee. Purchases made from a retailer or partner must be returned to where you made your purchase and are subject to the return policy of that retailer. Purchases of transactional licenses, maintenance, Wacom products, Wilcom DecoStudio, download insurance, Protection Plans, Training Plans, Subscriptions and Product Memberships and Priority Tickets are excluded from this guarantee.
Download Instructions
When you buy a Download version, you can download your software, install it on your computer and unlock it with a serial number that will be provided after purchase.
Shipping Policy
When you purchase boxed products you are purchasing physical products that will be shipped to the address you specify during the checkout process. You will select your preferred shipping method, where applicable, as you checkout. The following shipping options are available. Please note that 'Days' refers to 'Business Days'.
Corel ships to the countries listed below. Corel does NOT ship orders to PO boxes.
| | | |
| --- | --- | --- |
| Country | Price (excl. VAT)* | Shipping Method |
| United States | $8.00 USD | Ground (4-7 business days) |
| United States | $10.00 USD | Standard (3-5 business days) |
| United States | $15.00 USD | Priority (1-2 business days) |
| Canada | $25.00 CAD | FedEx International Priority (1-2 business days) |
* VAT applied in cart, where applicable.
Orders placed before 3:00 PM EST / 12:00PM GMT will ship next business day pending payment approval. Orders placed on Saturday/Sunday will be shipped the next business day pending payment approval. If you have any questions, please contact Corel Customer Service at www.corel.com/customer-service/.
Urban & Remote Locations in the United States
For Economy (Ground) Shipping, please allow an additional 1 - 3 delivery days to urban locations and 4 - 6 days for remote locations.
View, organize, search and share your WordPerfect® files!
Take WordPerfect® with you on your Android device! When you're on the move, WordPerfect® Viewer gives you the freedom to keep business moving—wherever you go. Read WordPerfect email attachments and downloaded files with a simple tap. Create folders and subfolders to organize your documents. Need to scan a document quickly? Use the search feature to find relevant sections by keyword. You can also bookmark files, email converted files and export an HTML version. Store files to view later without going back to your email and swipe to delete documents. No matter where you are, you're always in touch with important information, thanks to WordPerfect Viewer!
Features
NEW! Create folders and subfolders to organize your documents
Read WordPerfect email attachments and downloaded files
Use the search feature to find relevant sections by keyword
Bookmark files, email converted files and export as an HTML version
Store files to view later without having to go back to your email